Muhammara
Servings: 10 people
Ingredients: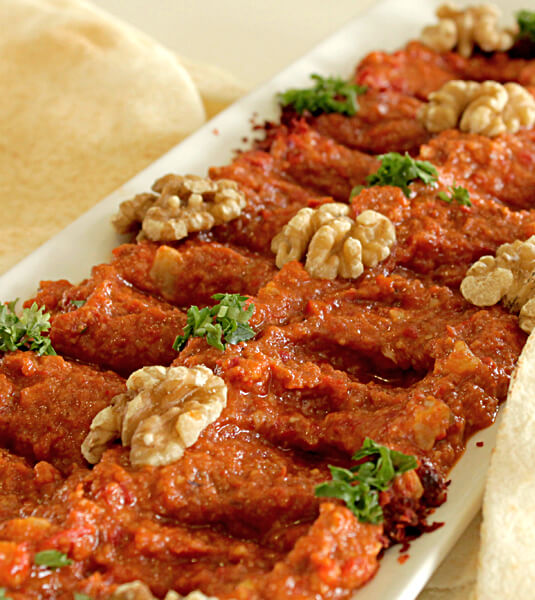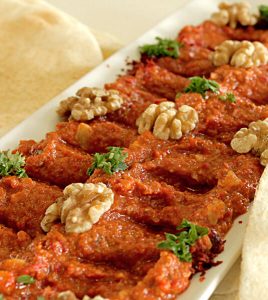 3 fresh red peppers
2/3 cup fine fresh bread crumbs
1/3 cup walnuts, toasted lightly and chopped fine
3 garlic cloves, minced and mashed
1/2 teaspoon salt
1 tablespoon fresh lemon juice
2 teaspoons pomegranate molasses
1 teaspoon ground cumin
1/2 teaspoon dried hot red pepper flakes
3/4 cup extra-virgin olive oil
toasted pita bread triangles as an accompaniment
Preparation:
Blacken or roast the peppers in the oven (turn them regularly). Let them cool. Remove the skin and the seeds.

Toast the walnuts and cumin seeds in a skillet. Leave to cool.

Mix peppers, nuts, cumin, salt, garlic, lemon juice, breadcrumbs and molasses in a food processor until the texture is smooth.

While continuing to mix, slowly add the olive oil. Taste and adjust seasoning if necessary.

Keep refrigerated.
Nutrition Information:
Serving size: 1
Calories: 250
Fat: 6 g
Carbohydrates: 18 g
Sodium: 160 mg
Protein: 4 g
Cholesterol: 0 mg