Pilot Bidet PB – 150 (Luxury Model)
Description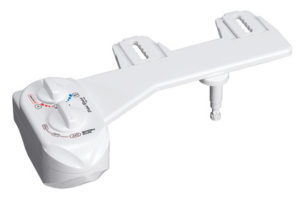 Pilot Bidet PB – 150 Warm Water.
Click Here for Downloadable Installation Guide.
Clean washing with Warm Stream of Water!
Wiping with Dry Paper is not good enough!
Requires no battery / electricity.
Comes with user-controlled warm water feature and temperature control knob along Hot water by pass.
Simple and easy operation and installation.
Available in White.
– Woman's Health:
Woman's health deserves the best. Use Pilot Bidet to maintain optimum health from youth through menstruation, pregnancy and menopause.
– Features:
User-controlled warm water
Temperature control knob
Adjustable pressure control
No electricity or battery needed
NO PLUMBER NEEDED
– Ease Hemorrhoid Pain and relieve Constipation:
Excessive use of tissue can cause irritation. Cleanwashing with water helps prevent infection. Water also helps relaxing the sphincter muscle.
– Environmentally Friendly:
Pilot Bidet reduces germ infection because you wash with water. Paper use is reduced. This is very good for homes with septic tanks.
– A necessity for anyone who find it difficult to hold paper or to reach
– Perfect for children:
Children do not always wipe well. With Pilot Bidet a complete, thorough wash is guaranteed.
– An unusual yet perfect gift!
for those who appreciate total cleanliness and good health!
Additional information
| | |
| --- | --- |
| Weight | 3 lbs |
| Dimensions | 19 × 8 × 3 in |